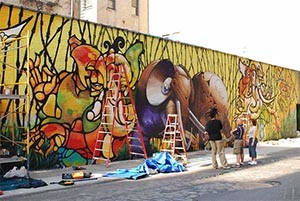 By Rahil Gandhi
In the past few years, Brooklyn, NY has seen dramatic real estate growth.  This has brought developers by the truckload trying to cash in on the boom.  In a place as hip as Brooklyn, smart companies use engaging visual imagery in their advertisements to woo potential customers.  One such company is currently embroiled in a lawsuit over the use of a work of street art, or graffiti, in their advertisements.
Brooklyn-based graffiti artist Craig Anthony Miller (better known by his artist name "CAM") has brought a lawsuit against real estate developer Toll Brothers for the use of a portion of his Elephant Mural in advertisements displayed on bus stop shelters, subways, phone booths, and newspapers in 2012.  These advertisements were meant to sell luxury loft-style condominiums. 
Miller created Elephant Mural in 2009 on a wall in Dumbo, Brooklyn.  In his complaint, Miller asserts that he owns the copyright in Elephant Mural and he also registered the work with the US Copyright Office. Before painting the mural, Miller received permission from the property owner.  The mural was destroyed in 2013 when the warehouse on which it was painted was torn down.
As the copyright owner of the work, Miller would have certain exclusive rights, including the right to generally prevent another person from using the work without permission.  Furthermore, the Copyright Act grants Miller the exclusive right to license others to reproduce all or portions of his work and to use those reproductions in commercial advertising.
Miller states in the complaint that Elephant Mural might be his most famous work, having "served as the backdrop for countless videos, weddings, engagements, fashion shoots, television and print advertisements and tourist photographs."  Its use has been licensed by companies such as Timex and Target.  According to Miller, he never authorized commercial use of the mural to Toll Brothers.
This case is still in its initial stages, so no conclusion can be reported.  However, as more and more street artists bring infringement cases against companies like Toll Brothers, it will be interesting to see how this and other similar cases play out.